Posted on November 20, 2012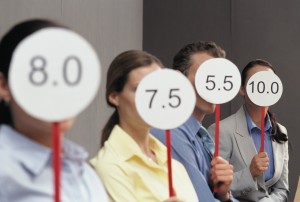 A lot of clients I work with still favour end-of-program paper evaluation forms. Call me old fashioned but I like paper forms too. Among other advantages, hand-out surveys, as they are sometimes called, let you personally communicate the importance of providing feedback, allow you to capitalize on the fact that participants are physically available, provide an instant check on your assessment of the program, and work for big and small budgets alike.
Assuming that you have crafted quality questions (see next week's post, Improving the Quality of your Feedback Forms), response rates for hand-out surveys tend to average in the 40 to 50% range for most CLE providers (usually closer to 40%). I think those numbers are too low. My experience is that the smaller the program, the higher the response rate. So, for example, in a hands-on workshop limited to 12 participants, it's not unusual to see a 91% response rate (or 11 forms). As the number of attendees grows, the response rate declines so that but the time you're in the 500 plus category, you're maxing out at 50%. But those are big attendance numbers typically reserved for signature events. Most CLE programs in Canada are in the 50 to 120 participants range. For that size audience, your goal should be a response rate of close to 70%.
Why? The better the response rate, the more weight you can give the results. And if you don't have feedback from one third or more of your attendees, there's a chance their responses could change the results. So how do you encourage more attendees to respond? A good starting point is to remove barriers to completing and returning the form. Here are some practical suggestions:
Make the form easy to identify and find (print it on distinctive paper)
Give respondents the option of keeping their comments anonymous or providing their name and contact information for follow-up
Make the form easily readable (font size matters) and if possible, visually appealing
Make the form easy to fill in (aim for a mix of open-ended and multi-response ie. "1 to 5" or "poor to excellent" rating-style questions)
Don't waste attendees' time with questions that don't matter ("will you come back?" matters)
Allow enough time to complete the form (for example, in a one day program, hand it out when attendees check in)
Tell attendees why their feedback is important and what you will do with it
Remind attendees throughout the day to complete the form and for certain, remind them at the last break or before the last presentation
Have extra forms on hand for attendees who lose, leave behind, or take notes on their form
Provide pens for attendees who don't have one
Provide a surface to write on
If there is no surface to write on, consider printing the form on card stock so it is easier to write on in an awkward position
Consider motivating attendees to return the form with some kind of extra push (it shouldn't be the reason for completing the form, and it doesn't always work but I have seen response rates soar when completed forms were tied to receiving an answer key or certificate)
Make it easy for attendees to turn in the form on their way out (provide a box at every exit or even better, have people standing there, asking for and collecting forms)
Add a fax number and/or mailing address to the bottom of the form for people who say they will "send it in" (they almost never do but still…)
The day after the program circulate the form (or an online version of it) by email and remind attendees who did not return it why you value their response
Thank attendees for completing the form
And one last gem. Get to know your attendees. Attendees who you know by name, or who know you or your team, will be more likely to turn in feedback forms than attendees with whom you have no relationship.
Form filling is not fun (even when an attendee really enjoyed the program). It's important for providers to remember that, and dedicate a little bit of time and resources to increasing response rates.
Category: Program Evaluation
Comments Off

on Practical Tips for Increasing Feedback Response Rates