Posted on November 23, 2012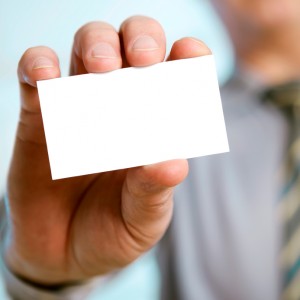 What's a business card for? When my firm recently underwent a website and logo makeover, I decided to tackle my business card at the same time. As I compared three equally uninspiring designs I asked myself "what's a business card all about anyway?" Is it something that you give to someone simply so they will have your contact information? Or is it, like a website or a blog or a presentation, an extension of you – an insight into who you are, what matters to you and what motivates you? Maybe a business card is about relationship building, an opportunity to persuade someone to want to get to know you. Of course it is!
So, as I began to think about how to best use this new palm-sized canvass, I did a little research and found some helpful suggestions in an interview with Ann Handley of MarketingProfs.com and co-author of Content Rules. Here are my three favourite tips from Handley:
1. Lose the kitchen sink approach. Edit your contact information ruthlessly. It's my favourite tip because I want to be that cool but I'm not so I couldn't really do it. For me, editing my contact information ended up meaning including my cell, email and web and mailing address. All good – and I think essential – ways to connect with me. I left out the fax and linked in but is that really editing?
2. Be visual. Think about adding images or graphics that spark curiosity or communication. I decided to add a 5 second elevator pitch about what I do – "Hello. I help organizations use professional development to evolve grow and lead." My designer is great at her job so she made it look pretty.
3. Think of your card as a call to action. Consider producing special runs of customized cards for a specific event, for example, see you at this year's after party or don't miss my presentation in track 3. I haven't done this yet but I'm intrigued by the possibilities.
For all the good advice Handley had to offer, I think the most challenging part of a business card is the flip. I can't remember the last time I saw someone accept a business card and not flip it over to see what was on the back. Some people believe the back of a business card should be blank for note-taking – the old sales training line about recording when and where you met the person and what you talked about. I'm not sure I agree with that. For me, when they turn it over, I want my card to start a conversation. I hope I achieved that; I'll find out soon.
To read Handley's full interview, see the August 2012 print edition of  Entrepreneur with the headline: Allow Me to Introduce Myself.