Posted on December 10, 2012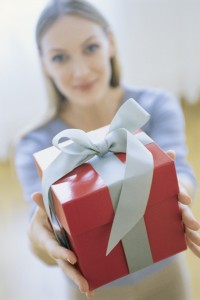 Gift giving in the PD world usually happens at one of three times – immediately after a program, the end of the programming year, and during the holidays. Given that the festive season is officially upon us, I thought I'd weigh in on the speaker gift giving discussion.
Ask any veteran volunteer presenter and he or she will tell you that they have enough paperweights, pens, ties, coffee cups, umbrellas, luggage tags, and padfolios to last a lifetime. Not that you'll find many presenters complain about the gifts they receive; in my experience they are an overwhelmingly appreciative group. And if a client I'm working with insists on offering a gift, I'll usually recommend a high end USB flash drive (for example Hermes) or a bookstore gift card (like Indigo/Chapters); I've never known a presenter to not like these items. But in most cases these fall into the "must spend the surplus" category for me.
After over a decade in PD, I can say without hesitation that what most presenters truly appreciate – far more than a gift – is recognition for a job well done, and acknowledgement of the value they bring to your organization. Regardless of the time of year, the best gift an organization can give a presenter is a meaningful thank you. Most good PD professionals are in the habit of thanking a presenter verbally the day of the event, followed by a written thank you and personalized feedback a week or two later. A first or second thank you note in December, packaged in a holiday theme, is a nice gesture and will likely attract a 5 out of 5 rating from faculty for thoughtfulness.
Other meaningful gestures include inviting the person back to present again next year, and/or referring them to a colleague in another organization. Where an organization has the budget, I also encourage recognizing and thanking presenters in a public way – through advertisements in industry publications, for example. This can easily be done as part of holiday ads during the festive season.
Ultimately, showing presenters how much you value them doesn't have to be expensive or complicated or align with a particular season. A simple thank you – and maybe a free drink when you happen to be in the same bar – is all most faculty want any time of year. Happy gift giving!