Posted on October 31, 2012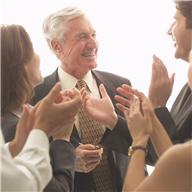 Volunteers are the unsung heroes of continuing legal education. Whether you are a staff member for a local bar association with no internal professional development resources, or part of a large learning and development team for a regulator or specialty organization, you probably depend in large part on unpaid enthusiasts to be the speakers, teachers and cheerleaders for your ambitious agenda. While employees may endure inept management, volunteers will simply walk away. So how do you create and sustain your all important volunteer faculty? You do it by trying to put yourself in the shoes of your volunteers, and you reduce their job to the simple phrase Tom Cruise made famous in the movie Jerry McGuire: help me help you. Here are six of twelve principles that will help put this mantra into action.
1. Ask and ask early.You would be surprised what people committed to an organization are able and willing to do for it. Ask early – at least three months before a program date. Leave it later than three months and you run two very real risks: 1) schedules are already booked, and 2) people will feel like sloppy seconds.
2. Lead. Let volunteers know exactly what you are asking of them. For lead faculty, provide a starting point you can build from together. Create an agenda and identify desired outcomes. Don't ask faculty to be visionaries (unless the program was their idea) or burden them with planning responsibilities.
3. Think. Be realistic about who you invite to do what. Don't invite the busiest lawyer in the province to chair a program; she won't have time. Save truly big names for speaking spots and give them enough time in the program to make it worth their while. Invite someone who you know will do a paper for the keynote and for stand alone presentations. Consider not asking members of a panel or judges for papers – they are more likely to say yes.
4. Inspire. Create opportunities for faculty to take ownership of a program. Share control in areas where lead faculty can help shape an initiative or leave their mark. Ask faculty for input on panel topics and demonstrations. Getting the most of people is sometimes just a matter of listening to them.
5. Nurture. Gain your faculty's confidence and loyalty. If you are planning on capturing or broadcasting the program, get the required releases and authorizations in advance. Most speakers feel hood winked to be asked to sign these on the day of the program. Give all faculty members more support than they expect. Summarize planning meetings and circulate minutes with action points. Take responsibility for writing invitation letters, confirmation letters and thank you letters. Provide proposed discussion points, talking points, and fact scenarios for refinement. Organize and chair teleconferences. Be on site the day of the program to deal with logistics, greet faculty and make introductions.
6. Update. Keep lead faculty abreast of other faculty that are confirmed, and any cancellations. Keep all faculty members up to date on agenda changes, changes to venue, etc. Send all faculty members a reminder of the program with date and times the week before it happens. Tell them how many people are attending, and what the breakdown by practice area and sophistication level of the audience will be so they can tailor their comments.
Check back for 7 through 12 next week.
Category: Volunteer Management
Comments Off

on Mobilizing Volunteer Faculty, Part I: Before and During a Program