Posted on November 27, 2012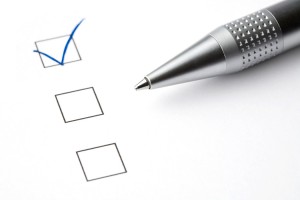 Knowing how to collect and use feedback is an essential part of a PD professional's tool kit. Every time you deliver a program you make choices about speakers, topics, delivery formats, materials and other elements that you hope will contribute to a great attendee experience. Effective PD people are always innovating so you need reliable evaluation methods to accurately identify those elements that deliver and those that disappoint.
The best evaluation forms do not take long to complete, measure behaviour or knowledge as well as attitudes, and answer three key questions – what worked, what didn't work, and what can be improved next time. This post is about how to design feedback forms to get the kind of information you need to improve programs. For suggestions about how to get more responses to a well-designed feedback form, see last week's post, Practical Tips for Improving Feedback Response Rates.
Here are 10 basic principles for designing helpful feedback forms:
1. Keep the feedback form short. It should be a maximum of one page and take no more than five minutes to complete.
2. Only ask attendees about what you can change or improve, for example, if the program has to be delivered in a particular location and you can't do anything to change or improve it, asking about it wastes attendees' time and loses an opportunity to collect meaningful information.
3. Tie evaluation to program objectives and desired outcomes. What are you trying to assess – content, teaching methodology, delivery format, price point, networking opportunities? Ask attendees about what you want to evaluate.
4. Ask attendees about learning as well as attitudes. Questions about attitudes measure perceptions and feelings, for example rate the quality of the program or presenter. Questions about learning measure behaviour and knowledge, for example, did you understand the program content or materials? Do you feel you can apply what you've learned?
5. Mix closed-ended multiple choice questions (easy and quick to answer, and enable comparison of different programs but are not particularly informative for improving a particular program) with open-ended questions that ask for comments (require more time to answer but are capable of generating specific, informative feedback).
6. When using closed-ended multiple choice questions, choose numbered responses (rate the quality of the program materials on a scale of 1 to 5, 5 being excellent and 1 being poor) or labelled responses ( I learned new information that will help me in my day to day practice –  1 strongly agree to 5 strongly disagree.) Clearly define the numerical rating for each response and make sure that the scale is visible, and that the questions fit the responses.
7. For closed-ended multiple choice questions, offer five responses to avoid stilted results that can happen with too few choices or paralyzing participants with too many choices. For more on this topic see my future posts on Quick Tips for Feedback Compilation and Analysis, and Top Box s v. Average Scores.
8. Make open-ended questions as specific and focused as possible so attendees don't feel obligated to write an essay. For example, what are the three most important things you learned today? What was your favorite part of the program? What content was not covered in the program that you would like to see included next time? Provide adequate space for attendees to share their suggestions.
9. Reserve two response options (yes/no) for questions regarding future actions ie. will you recommend the program to a colleague, or, would you attend an advanced version of this program? Include a small space for additional comments for maybe's and qualifications.
10. Include a question about the action attendees are willing to take, for example recommending the program to others and whether the attendee will return next year. Both of these are very useful indicators.
Properly conceived and executed, feedback forms are powerful tools for change and innovation. Make it your mission to design user friendly forms that capture the best and worst parts of your programs, and then use the information you receive to make your programs better.